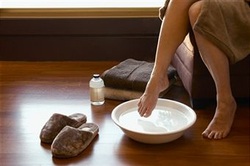 Summer is the perfect reason most of us use to shed our shoes, and show off our feet. Even some of the most shy feel okay letting the tootsies out. I love looking for that perfect sandal or open toe shoe to showcase my newly pedicured size 10 feet. Most nail shops have moved away from sloughing of callouses naturally with a pumice stone to offering a liquid callous remover to help rid the feet of built up cracks, and callouses. It probably had to do with all the sweat needed to tame those stubborn nodules.
On a couple of my visits I chose to have the liquid callous remover, what I noticed was that my feet begin to dry out quicker, along with flakiness. Well needless to say I no longer use the remover, and stick to asking for the old fashioned pumice. These products are usually acid callus removal treatments that contain salicylic, citric or hydroxy acids.
With a little research I found that these treatments are generally safe, but could have some adverse implications for people with medical conditions like diabetes, or poor circulation, it is possible the acid could burn a hole in the foot because of nerve damage associated with these conditions. Caution should also be taken if you have painful, or bleeding callouses, it would be wise to check with your doctor.
To combat the daily beating on my feet I use our
body balm
daily to keep my heels, and the bottom of my feet soft, and moisturized. Because of the antioxidants and high content of natural emollients in tea seed oil, and shea butter my feet look great everyday. I even use it on my elbows, and knees, areas we tend to neglect.
Try one of our
balms
, and let me know how it works out for you.
Caio,
Shay Bella