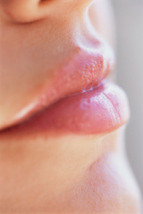 Fall is upon us, and winter will quickly follow. As the weather changes we need to protect our bodies. I want to focus on the lips, we all love
soft lips
. It would really annoy me when my lips would dry out because of the changes in weather. In the summer I worried about burning, and peeling, the windy fall, drying, and in the winter, cracking. Like most of you for years I would grab for some type of chapstick and go on about my business. Well it is definitely better than nothing but my lips weren't getting any conditioning or moisture, just a seal to block out the elements. Many chapstick products are petroleum jelly based, and like I mentioned it creates a seal, the type where nothing gets in and nothing gets out, and it just sits on your lip until you remove it or eat it away.
The great thing about camellia seed oil, and shea butter is that they both, retain, and seal in moisture, and is readily absorbed keeping your lips soft. Now I use
TeaShea Lip Balm
to keep my lips soft, supple, and conditioned year round. The antioxidants in this lip balm helps fight off free radicals not only making my lips have a more youthful appearance but also helps to improve the health of my lips.
Get your
TeaShea lip balm
, and tell us how it works out for you.
Caio for now,
Shay Bella