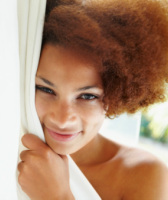 Women we treasure our crowning glory, but it is more work for some than others. I laugh when I hear ladies with straight hair wishing for curly hair, and ladies with curly hair wishing for straight hair. Listening to all of the ways each go about accomplishing this desire is sometimes amusing, and sometimes sad because identity, and self esteem in many cases are attached to the locks we were born with . Lately I have noticed women of all nationalites embracing the natural flow of her mane, and I applaud each and every one of you.
I would like to pay special tribute to the growing number of African American Women that have, and are embracing her inner naturalista. Many women in this community have been ostracized, criticized, and simply ignored based solely on how she chooses to wear her hair. I have heard the terms like "militant, radical, ethnic" to describe these women just from a first glance, and these terms are the milder ones. The desire to blend in, or transform to make others comfortable has led to countless hair catastrophe's. Have you seen the movie Good Hair? regardless of how you feel about the portrayals or Chris Rock some very interesting information came to light, especially about the hair industry, and the damage caused by the caustic chemicals used to achieve the socially acceptable look. So, again I want to say Bravo to these ladies for standing up for themselves. I have seen some positive changes recently even in Hollywood, making it a little easier to embrace, but it is just a start, there is still a long road to travel on this subject.
I am calling all my naturalista friends and fans to leave comments on your experiences as a naturalist or on your journey transitioning to natural. Have you used Camellia Seed Oil or Shea Butter in your hair care regimen? of course I would love you to try our
hair butter
, but I also want to help make this process easier for others with your information, and encouragement.
Ciao for now,
S.